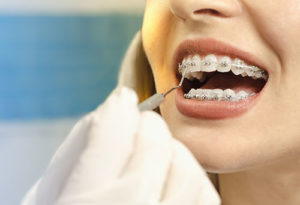 Get a new smile today at Lovett Dental Pasadena. We offer dental braces for both adults and children. If your child needs corrections for the development of their teeth or jaws, braces offer a long-term solution. You can choose from traditional metal braces or clear porcelain braces.
Schedule a free consultation with one of our dental hygienists. We can answer your questions, discuss your child's condition, and go over your options. Additionally, we can help you determine your child's orthodontic needs and get them started with braces right away. We are here to help you protect your child's teeth through every stage of development. To find out more about our orthodontic services, contact Lovett Dental Pasadena today.
Signs That Your Child Needs Dental Braces
Is your child a candidate for dental braces? When you schedule an oral exam at Lovett Dental Pasadena, we will perform a comprehensive assessment to determine if orthodontic work is the best solution. We look for signs such as:
Large gaps between the teeth (but not missing any teeth)
Speech or chewing problems due to misalignment
An extensive underbite or overbite on the top row of teeth
Overcrowding of teeth that are growing side-by-side
If your child currently has any of these issues, we may recommend dental braces to correct the medical condition. Braces can help realign the jaws or teeth. We can fit your child with the right braces that meet their needs.
Our Orthodontic Procedure in Houston, Texas
We follow a careful step-by-step process to insert braces on your child's teeth. The procedure includes:
An Oral Exam: We carefully examine your child's teeth, gums, and jawbone to look for problems in the oral cavity. The assessment helps us determine if braces are the best solution. If not, we may recommend more effective types of treatment for your child.
Diagnostic X-Rays: A standard oral exam does not always give us a clear indication of what is going on in your child's oral cavity. Therefore, we take a series of X-rays. The images can tell us a lot about your child's biting position and the position of the teeth and jaws.
Plaster Models: We use plaster models to design dental braces. Your child bites down into the plaster, which helps us develop the model, which helps us create the braces. We use digital imaging technology to be sure that the braces will fit on the teeth correctly.
Further Dental Work: In more severe cases, we may have to perform extensive surgical procedures to correct your child's dental problems. Dental braces may be used as a supplement to surgical care if necessary. Further procedures may include repositioning the jaw or pulling a tooth.
Benefits of Orthodontics at Lovett Dental Pasadena
There are several reasons why you may want to choose dental braces for your child, including:
Correcting chronic speech problems
Improving the overall health of the oral cavity
Chewing becomes less painful
Less erosion or bone loss occurring over time
Perhaps the most significant benefit of braces is that they are an investment in your child's future. Braces can make the necessary corrections that last into adulthood. Your child will spend less money on dental work down the road.
Get Dental Braces Today in Southeast Houston
Are you considering dental braces for your child? If so, we can help. Lovett Dental Pasadena offers comprehensive orthodontic work for all types of conditions. We also perform many other types of dental work. Contact us at 281-998-8800 to learn more about how we provide free consultation on your first visit. Lovett Dental Pasadena is here to meet all of your dental needs.