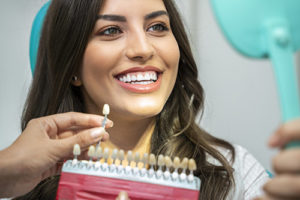 Lovett Dental Pasadena offers cosmetic dentistry if you're looking for a way to boost your smile, increase your self-confidence, and improve your professional image. Our cosmetic dentists can help. You don't have to feel self-conscious about your smile another day.
There are several options available to you for improving the look of your teeth. Schedule a free consultation with a Lovett Dental Pasadena cosmetic dentist today to find out which solution works best for you. Cosmetic dentistry is simple, affordable, and quick. We can complete most procedures in under a few hours.
Types of Cosmetic Dentistry at Lovett Dental Pasadena
We perform a comprehensive oral exam to determine what type of cosmetic dentistry is best for you. We offer a variety of dental services, such as:
The Benefits of Cosmetic Dentistry
The most significant benefit of cosmetic dentistry is that we can help you get the smile you have always wanted. However, there are other benefits to cosmetic dentistry. First, a cosmetic dentist can address concerns that you may have, such as:
Discoloration of your teeth that occurs over time
Tough stains that you can't seem to remove
Gaps between your teeth – especially toward the front
Crooked teeth that have developed
Teeth that are too short, too long, or make you self-conscious
These are all issues that may draw more concern as you get older. You will also notice how cosmetic dentistry improves your demeanor. Good looking teeth improve your professional appearance and give you greater confidence.
When your teeth look amazing, you are no longer afraid to smile or take pictures. Other people will also notice how good your teeth look. Lovett Dental Pasadena is here to help you improve your appearance and self-esteem. We offer complete cosmetic dentistry.
Schedule a Free Consultation at Lovett Dental Pasadena
Is cosmetic dentistry right for you? If you are not sure, we can schedule a free consultation for you at Lovett Pasadena. We will meet with you to discuss your options. Your dentist will perform an oral exam and then schedule any agreed-upon procedure. Cosmetic dentistry is painless, easy, and works with your budget. Plus, you will love the results!
To find out more about cosmetic dentistry, contact Lovett Dental Pasadena online or call at 281-998-8800. We are here to help you get the smile you have always wanted.