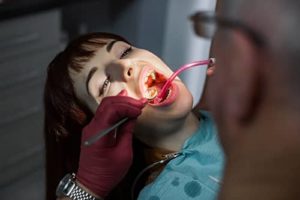 People often place scheduling a dental exam firmly at the bottom of their list of priorities, but regular oral examinations are an integral component of achieving and maintaining good dental health.
A routine exam at Lovett Dental Pasadena in Texas involves checking for common issues such as the onset of tooth decay, existing cavities, emerging gum disease, alignment issues, and other conditions that may harm your dental health. Exams don't take long, are painless, and have the potential to spare you the aggravation and expense that may occur when dental issues are left to progress unchecked. This simple process includes the following when you visit your general dentist:
You'll Be Asked to Provide a Medical History
Your Lovett Dental Pasadena dentist will need a medical history in order to provide a customized level of care. Certain medical conditions may impact your dental treatment plan.
Some of the conditions that may play a part in a personalized plan of preventive dental care include:
Cardiovascular issues
Cancer
Diabetes
Respiratory issues
You'll also be asked to provide your dentist with any past dental records you may have.
You'll Be Checked for Common Oral Health Issues
Dental exams begin with your dentist asking you about any existing concerns related to oral health, such as tooth pain and gum sensitivity. Your dentist will then perform a physical examination of your teeth and gums, checking for cavities, signs of tooth decay or gum disease, and anything else out of the ordinary. X-rays will be taken to identify any underlying problems, and it's likely that your dentist will also perform an oral cancer screening. If any obvious issues are found, such as cavities or the onset of gingivitis, your dentist will recommend an appropriate course of treatment.
Your Teeth Will Be Professionally Cleaned
Professional teeth cleanings are an important part of maintaining good dental health. Even if you practice regular brushing and flossing, buildup of plaque can still occur, and professional cleanings are designed to remove it. Teeth cleanings are generally performed by an experienced dental hygenist and are painless.
You'll also be able to inquire about cosmetic dentistry procedures, such as teeth whitening, that may be of interest to you, or discuss the possibility of aligner treatment if you have alignment issues that are negatively affecting the appearance or the functionality of your teeth. You'll also be able to explore the possibility of implants, crowns, and other options if serious tooth decay is part of the picture.
Many people make the mistake of thinking they only need to see a dentist when they have a toothache or when a tooth has been chipped, knocked out, loosened, or any other pressing dental condition that can no longer be ignored. However, the best dental health practices depend largely on preventive actions, and many common teeth and gum conditions can be substantially slowed down and even prevented by the right type of care and by early detection. Even the most seemingly insignificant cavity can quickly morph into a major oral health issue if left to its own devices.
Also, certain systemic conditions such as rheumatoid arthritis, Type II diabetes, and autoimmune issues such as lupus have often been detected thanks to a vigilant dentist during a routine dental exam. All of these conditions, as well as others, involve initial signs that first appear in the mouth.
Schedule a Dental Exam at Lovett Dental Pasadena Now
Most people need to see their dentist every six months, although your dentist may recommend a different schedule. Please feel free to contact us at your earliest convenience at 281-998-8800 to schedule an appointment for a dental examination at one of our many Texas locations.