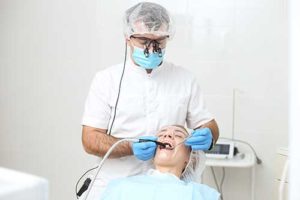 Missing teeth, areas of discoloration, and problems with your bite may make it hard for you to chew or smile with confidence. These and other dental complications may be treatable using restorative dentistry services. Our team at Lovett Dental Pasadena in Texas provides a full restorative dentistry team capable of helping to redo your smile through innovative and effective dental restoration work. All you have to do is to come in to see us.
What Can Restorative Dentistry Do for You?
The benefit of restorative dentistry is its ability to restore your smile to a healthy level but also to minimize future damage. For example, you may have had a tooth that has decayed so badly that it had to be removed. Our dental restoration team will help fill in that open gap to prevent ongoing problems and give you the whole smile you desire. With comprehensive restorative dentistry services, we can tackle concerns that you have with effective, long-lasting solutions.
Why Invest in Dental Restoration?
There are many benefits that come from investing in dental restoration based on your current needs. Some of those benefits include:
Filling in missing teeth to improve your ability to chew
Reducing gaps and spaces between your teeth that can cause misalignment over time
Minimizing the risk of early decay of healthy teeth
Giving you a smile that you love
Allowing you to get advanced dental protection
Restorative dentistry services can help you to have a smile that's beautiful and functional. It's always specialized to create a custom solution for your smile.
What Restorative Dentistry Services Are Available?
Lovett Dental Pasadena in Texas offers a range of restorative dentistry services to our clients. Some of the dental services you can expect include:
Dental Implants: Implants replace missing teeth with a long-lasting solution. These are anchors placed deep into the jawbone to create the durability and strength you need. Implants are designed to last for decades.
Dental Crowns: Crowns are the piece of the tooth that is seen. These artificial teeth can cap dental implants, but they can also be placed with bridges. They are designed to help you chew and bite like normal, and they tend to match your other teeth well. Crowns can also be placed over the top of existing teeth that may be damaged.
Dental Bridges: A bridge works to fill in the space between two teeth and anchors against the two teeth on either side of the gap. This is crucial because missing teeth can allow other teeth to crowd the area, putting them at risk of damage.
Dental Veneers: If you have damaged or stained teeth, our dental restoration may include the use of veneers. These are thin films added to the front of your teeth to hide the damage and to give you a white smile.
Dentures: For those who have a need for more extensive teeth replacement, dentures can be an excellent choice. We offer several types as a component of your restorative dentistry services, including those that can be removed and those that are more permanent replacement teeth.
Within our restorative dentistry practice, you can feel good knowing there are solutions available to meet most of your needs. If you're hiding your smile, struggling to chew properly, or having problems with speech, our team can offer the dental restoration solutions you need right here in Texas. Let us give you your smile back.
Choose to Improve Your Smile – Call Lovett Dental Pasadena Today
Our restorative dentistry services are available to you today. If you think these restorative dentistry services could help you, we encourage you to reach out to Lovett Dental Pasadena in Texas today for a call. We're here to help you with all of your dental restoration needs. Call 281-998-8800 for an appointment today.