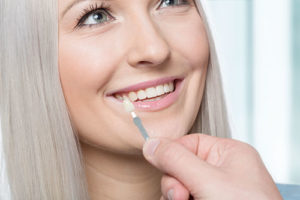 Dental veneers are a fast and dependable way to beautify your smile and protect your teeth. Lovett Dental Pasadena offers dental veneers. Dental veneers help you conceal blemishes on your teeth, such as stains, chips, or gaps. This affordable option for improving the appearance of your teeth is a popular form of cosmetic dentistry.
To find out more about our cosmetic dental services, contact our dental practice today. We will answer your questions, discuss your options, and get you started with brand-new dental veneers. At Lovett Dental Pasadena, we are committed to helping you with all your dental needs.
What Are Dental Veneers?
A dental veneer is a thin piece of tooth-colored porcelain that we attach to your teeth' front surface. The purpose of the veneer is to improve the look of your teeth and address any aesthetic issues. Once we place the veneers on your teeth, they remain there permanently.
Years of drinking coffee, smoking cigarettes, or eating food can fade your teeth. Although teeth whitening or brushing can minimize the effects of food stains, veneers give you a fresh start. Veneers are stain-resistant and easy to maintain.
The Dental Veneers Process
If you get dental veneers with Lovett Dental Pasadena, you can expect our board-certified specialists to complete the process within a single session. Our step-by-step process includes:
Oral exam – When you first arrive, we will perform a comprehensive oral exam. The assessment helps us identify any possible issues with your teeth or gums. The exam also helps us determine if veneers are the right solution for you.
Veneer preparation – Specialists trim part of the enamel to smooth out the surface and prepare your teeth for dental veneers. We then take an impression of your teeth using a mold. Following that, we send this mold to the lab that designs your veneers. This process takes one to two weeks.
Veneer fitting – Our dental hygienist checks your veneers to make sure they match your teeth' color and size. We then attach the veneers to the teeth surface using a strong adhesive. Ultraviolet light is used to harden the adhesive quickly.
Follow-up visits – Once we install the veneers, it is crucial to maintain them properly. Therefore, we may schedule follow-up visits to ensure your veneers remain in good shape. You will love the results that dental veneers bring to your teeth.
Who Is a Good Candidate for Dental Veneers?
Dental veneer styles at Lovett Dental Pasadena can supplement dental work or an alternative to other types of cosmetic or restorative devices. However, the truth is that dental veneers aren't the best option for everyone. So, how do you know if you'd be a good candidate for dental veneers? Dental veneers may be right for you if you:
Want to correct more than one cosmetic problem at once
Have discolored teeth
Desire to correct stains on your teeth from old fillings
Are able to avoid bad dental habits, such as biting your nails or chewing on ice
Have enough tooth enamel to support the dental veneers
Our Lovett Dental Pasadena team will give you a thorough examination to determine if you meet the criteria for dental veneers. If dental veneers are right for you, you will experience some of the many benefits of dental veneers.
Benefits of Dental Veneers
Dental veneer services at Lovett Dental Pasadena produce numerous benefits for our patients, including:
The look and feel of a natural tooth
Porcelain is compatible with gum tissue
Porcelain veneers resist tough stains
You can expect your veneers to last five to seven years
Veneers are budget-friendly
The procedure is fast, easy, and pain-free – no surgery is needed
Dental veneers are the perfect solution for fully restoring your smile without the need for extensive procedures. To keep your dental veneers looking great, make sure you brush twice daily. Floss after each brushing and use an antibacterial mouthwash to kill germs. Schedule oral exams as directed by your Lovett Dental Pasadena dentist.
Discover More About Dental Veneers at Lovett Dental Pasadena Today
If you are looking for dental veneers in Pasadena, Texas, our team can help you restore your smile and protect your teeth. To schedule a free consultation at Lovett Dental Pasadena, contact us online or call us at 281-998-8800. We are here to help you with all your dental needs.