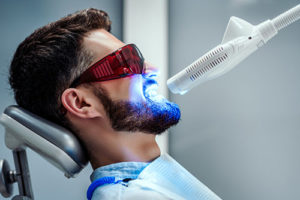 Lovett Dental Pasadena offers fluoride treatments that prevent tooth decay and keep your teeth strong and healthy. We provide both topical fluoride and systemic fluoride treatments to suit your dental needs. When combined with brushing and routine oral exams, fluoride reduces the effects of tooth decay and reinforces the enamel on your teeth.
To schedule fluoride treatment, contact Lovett Dental Pasadena today. We will answer your questions and go over your treatment options. We also offer routine oral exams and teeth cleaning. With ongoing care, you can preserve your vibrant smile and boost your teeth's performance. Fluoride treatments are an integral part of teeth cleaning.
How Does Fluoride Protect Your Teeth?
When your teeth develop (around the age of one), they form enamel. The enamel gets stronger due to the fluoride in food and water. Once your teeth break through the gums, fluoride reinforces tooth enamel and protects it from tooth decay.
Although most products like toothpaste, mouthwash, and water contain fluoride, your dentist can also provide fluoride treatments. Fluoride treatments give you added protection. While dentists recommend fluoride treatments for children, adults should also use dental fluoride treatments to keep teeth healthy over the years.
Two Types of Fluoride Treatment
We offer two types of fluoride treatments, including:
Topical Fluoride: We apply topical fluoride in the form of mouth rinse, gel, or foam. Once applied, the gel stays on your teeth for up to five minutes. If you continue using topical fluoride, we recommend visiting the dentist every three to twelve months. When professionally applied, topical fluoride is more concentrated than self-applied fluoride.
Systemic Fluoride: Systemic fluoride comes in the form of supplements that can reinforce professional fluoride application. You can purchase specialized toothpaste or water tablets that contain higher levels of fluoride than usual. We provide systemic fluoride that you can take home and use according to the instructions.
Which fluoride treatment is best for you? That depends on your dental needs and the overall condition of your teeth, gums, or oral cavity. Consult your Lovett Dental Pasadena specialist to determine what type of treatment you should use.
Benefits of Fluoride Treatments
There are several reasons why fluoride treatments are beneficial for both adults and children, including:
Fluoride treatments reduce the risk of cavities or tooth decay.
Treatments can slow down enamel softening from gum recession.
You may spend less on restorative procedures in the future.
Treatments work as a supplement to dental braces, devices, or other dental work.
Fluoride can also reduce sensitivity in your gums or teeth.
If you are concerned about your teeth' function or look as you age, then request fluoride treatments regularly. As you get older, fluoride becomes more critical to the preservation of your enamel.
Schedule Fluoride Treatments with Lovett Dental Pasadena Today
How often should you schedule fluoride treatments for you or your children? We recommend getting fluoride treatments during an oral exam or teeth cleaning. Ask us about all the available fluoride treatments, including in-office and take-home options. We may also recommend that you use special toothpaste or mouthwash to protect your teeth.
If you already have cavities or tooth decay, fluoride treatments will not be enough to fix the problem. We will need to perform additional procedures such as root canal or other dental work to improve the condition of your teeth. However, fluoride treatments will be a powerful supplement to any work we perform.
To find out more about fluoride treatments, contact Lovett Dental Pasadena today. Call us at 281-998-8800 to schedule an oral exam or fluoride treatment.