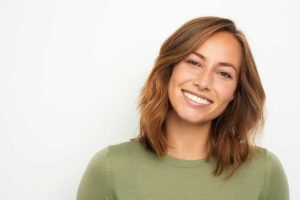 Lovett Dental Pasadena offers teeth whitening services to brighten your teeth and restore your vibrant smile. We offer both in-house teeth whitening and take-home whitening products. Our treatments provide immediate results with no pain or discomfort. There are plenty of cosmetic dentistry options available to you.
Teeth whitening improves the appearance of your teeth and boosts your self-confidence. You will feel more comfortable in social situations and not feel bashful when you smile. Contact Lovett Dental Pasadena to schedule a session today and see the difference that teeth whitening can have for you.
The Teeth Whitening Process at Lovett Dental Pasadena
Professional teeth whitening is a quick and straightforward process at Lovett Dental Pasadena. A board-certified dental hygienist performs an oral exam to ensure that your teeth are in good condition for whitening. We discuss your options and recommend the best whitening method for your teeth.
If you want quick results, you may want to choose in-house whitening. The process includes the following:
Applying a bleaching agent to your teeth for fifteen minutes.
Shining a UV light on the bleaching agent to speed up the process.
If your teeth are white, the process is complete. If not, we repeat the service.
We rinse the bleach from your teeth to complete the procedure.
The bleaching agent that we use is more potent than the product we offer over-the-counter. For this reason, a trained Lovett Dental Pasadena dentist needs to apply it.
Benefits of Professional Teeth Whitening
Getting a brighter smile at Lovett Dental Pasadena has many benefits over other methods of teeth whitening. Some of these benefits include:
Quick appointment – Teeth whitening services at Lovett Dental Pasadena are often completed in under two hours, so these appointments won't disrupt your schedule.
Brighter results – Our team's professional teeth whitening services often give our patients brighter smiles than other teeth whitening methods.
Longer-lasting effect – Also, our professional teeth whitening services last longer than other methods, such as over-the-counter.
A safe environment –  Professional teeth whitening services are performed in our sterilized exam rooms, so you know that you are in a safe setting for dental work.
Take-Home Teeth Whitening
Although we offer in-house teeth whitening services in Pasadena, Texas, you may prefer to try a take-home solution. There are several take-home options available to you. Your dentist can discuss your options to help you determine which one is right for you.
Keep in mind that take-home teeth whitening products do take longer to whiten your teeth than professional whitening. In some cases, you may not see any results for three to five days. However, our products do deliver results, and they are safe to use. You may also choose to add them as a supplement to professional cleaning.
What to Expect After Professional Teeth Whitening Services at Lovett Dental Pasadena
Our teeth whitening services will produce the results you want. Your teeth should appear up to six times whiter regardless of which type of cosmetic treatment you choose. When you look in the mirror, you should notice a significant difference in the color of your teeth.
However, teeth whitening is not permanent. Furthermore, if you do not take care of your teeth, they will quickly lose their vibrant white shine. Therefore, you need to take care of your teeth by choosing the right precautions, such as:
Avoid drinking dark-colored drinks such as coffee or red wine.
Brush, floss, and use mouthwash every day, or get professional teeth cleaning.
Stop smoking cigarettes or cigars.
Schedule a cleaning once every six months.
Schedule a new whitening when your teeth start fading.
The only possible side effect of professional teeth whitening is sensitivity to hot or cold drinks a few hours or days after the procedure. If you have extended sensitivity, avoid hot or cold beverages or brush with toothpaste for sensitive teeth.
Brighten Your Smile with Lovett Dental Pasadena
If you are currently unhappy with the way your teeth look, Lovett Dental Pasadena can help you get back your dazzling smile. Contact us today for teeth whitening services. To schedule a session with one of our dentists, contact us online or call us at 281-998-8800. We are available to help you with all your dental needs.