Teeth straightening is essential for many reasons, including improving the look of your smile and ensuring the health of your teeth. With new technology, including clear aligners, it's possible to have the smile you desire with ease. At Lovett Dental Pasadena, we offer clear aligner trays that deliver improved straightening without many of the complications of traditional braces.
What Are Clear Aligners?
Clear aligner trays are designed to correct the positioning of teeth using gentle force. In that way, they work just like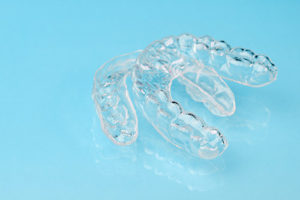 braces. However, these are clear trays instead of brackets attached to the teeth. The benefit is that there's no damage done to the teeth, and there are no painful tightening appointments.
Clear aligners are made of durable material. They are customized for your teeth with a design that just pushes the teeth a bit. You'll have these replaced every few weeks as your teeth move into the proper position. Clear aligners are also just that – clear. That means unless you tell someone you have them in, they may not notice them.
What Are the Benefits of Clear Aligner Trays?
The key to remember about teeth straightening like this is that they are very effective. They can work just as well, and sometimes better, than dental braces. They also offer other benefits such as:
Being removable will allow you to brush your teeth properly
Fewer food restrictions
No one noticing that they are present
No painful tightening appointments
Work quickly, sometimes faster than braces, to straighten your teeth
Clear aligners are safe and effective for most people. Our team will provide you with some insight when you come in to learn more about how well they can work to meet your teeth straightening needs.
How Do You Get Clear Aligners for Teeth Straightening?
When you visit our Lovett Dental Pasadena office, we'll discuss the options available to you for improving your smile. This is done after we complete X-rays to have a good understanding of the alignment of your teeth. If we believe teeth straightening is right for you, we'll talk to you about all of the bracing options that may work for your needs.
If you decide on clear aligner trays, we'll then get to work on the process:
We'll ensure your dental health is in good condition and ready for teeth straightening.
Customized trays are designed for you after measurements are taken in our office.
We'll teach you how to use and care for them.
You can remove them from time to time, but they should remain in your mouth most of the time.
You'll need to come in every few weeks for new trays to be created to keep moving your teeth gently.
You'll start seeing improvement within a matter of weeks.
Why Get Teeth Straightening?
Straightening your teeth is important for many reasons. The most crucial is that it provides you with a way to improve your dental health. When teeth are properly aligned, you can speak and chew better. You also are reducing the risk of early decay. For many people, straight teeth are also important for cosmetic reasons. You may want to love the way your teeth look when you smile. Our Lovett Dental Pasadena team is happy to help you to determine if these are the right solution for you and how to use aligners to get the best overall benefit.
It's Time to Fix Your Teeth – Call Lovett Dental Pasadena for Help
When it comes to teeth straightening, using the most advanced solutions is the route to take. Clear aligners offer that solution to you. When you utilize our clear aligner trays, you'll see just how much improvement is possible. To learn more about these solutions for yourself or your child, contact Lovett Dental Pasadena for an appointment. Call 281-998-8800 for an appointment.